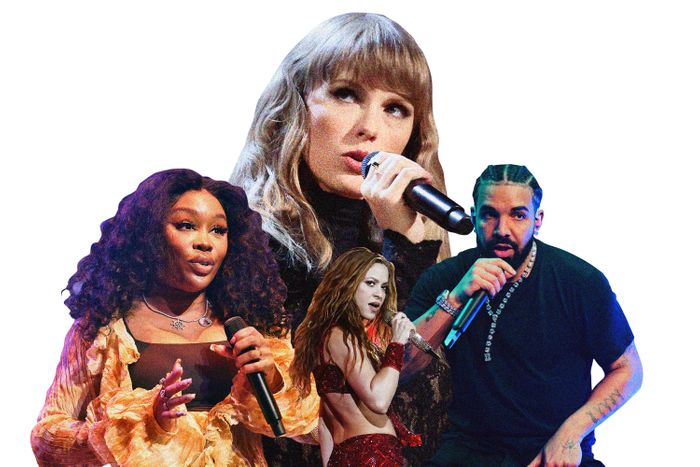 Photo-Illustration: Vulture. Photos: Getty Images
We've come to expect a certain level of diaristic writing in our pop music today, so much so that it was news when Taylor Swift wrote an album that wasn't chock-a-block with oversharing. A pop star's songs now often act as tabloid, as social media, as memoir. This style of lyricism also invites the most unhinged, National Treasure-style deciphering. It's become part of how fandom is performed. If you're a real stan, you know that your favorite artist is sending you hidden messages. Like Manson with The White Album, except it's encoded messages about sad breakups and not a looming race war.
But this winter has seen a spate of hyper specific breakup anthems that don't need decoder rings. And they are full of juicy deets, some of which rival Prince Harry's memoir Spare in terms of disclosure, if not record-breaking sales. But who's doing it best? We've collected the dishiest songs of the season, and ranked them by level of overshare. We've also identified the ex in question, and, as a bonus, rated each song on which detail from Spare and/or Prince Harry's press tour it most closely vibes with.
7.

"Smoking on my Ex Pack," SZA
Ex: Drake, maybe?
PHC (Prince Harry Corollary): The story about losing his V-card.
SZA's track is at the bottom of our ranking because it's the very floor of this type of song. We know there are exes on whose pack she is smoking. But whomst? She alludes to some who excel in various fields (rap, athletics) but not doesn't give enough hints to decode. She says "Your favorite athlete screaming 'text me back,'" but we can't even narrow it down to a sport. I like curling, SZA. Are you fucking with curlers? "I got your favorite rapper blocked/I heard the dick was wack" is a good line, very mean, but it lacks specificity. I'm sure many well-loved rappers have wack dick. Still, what she lacks in deets she makes up in breadth. As she says, the ho accusations are weak. But the bitch accusations are backed up by this catty little ditty.
6.

"Middle of the Ocean," Drake
Ex: Serena Williams (he wishes)
PHC: When he said he identifies with Stewie while stoned.
Speaking of SZA, her ex Drake was being petty about people we don't even know if he dated. Drake rapped messily about a lot of folks. Some might say too many! One of his disses went to Serena Williams' husband, billionaire Alex Ohanian. Did Drake ever date Serena Williams? Unclear. Is he salty that she's with someone else now? Oh, definitely. "Sidebar, Serena, your husband a groupie," he rapped on "Middle of the Ocean." To which Ohanian tweeted back "The reason I stay winning is because I'm relentless about being the absolute best at whatever I do — including being the best groupie for my wife & daughter." If the clapback is better than the original line, you're near the bottom of this list. Drake's loss.
5.

"Becky's So Hot," Fletcher
Ex: Shannon Beveridge
PHC: Admitting he still has questions about how Diana died.
Credit where credit's due: Fletcher's song is one of the few on this list that admits fault or inner conflict. Fletcher's song is about accidentally liking a picture of ex-gf Shannon Beveridge's new gf Becky Missal wearing Beveridge's old T-shirt."I happened to be in the studio writing something else, and I was creeping on my ex's new girlfriend," she said in September. "She had posted a picture wearing an old vintage T-shirt that I'd worn before, and I accidentally liked the photo. She looked so hot that I was like, How can I even be mad?" The song became the talk of Lesbian TikTok, but that doesn't bump it higher on the list, since most of the mess came from the comment section and not the song itself.
4.

"Would've, Could've, Should've," Taylor Swift
Ex: John Mayer
PHC: Describing how his dad broke the news of his mother's death to him.
More like "Would've, Could've, Should've" put this on the main album. The queen of puzzle lyrics is only halfway down this ranking, mostly because it's from the 3am Sessions and not Midnights proper. Most of these songs are lead singles, which shows a dedication to blasting your ex that Tayla is usually known for. That said, this one is a painful coda on "Dear John," which framed Swift's breakup with John Mayer as much more triumphant than this song does. "If clarity's in death, then why won't this die?" is rough but "Give me back my girlhood, it was mine first" is devastating. Turns out trauma lasts a long time? Who knew.
3.

"29," Demi Lovato
Ex: Wilmer Valderrama
PHC: When Prince William pushed Harry down and told him never to tell Meghan.
Yet another age-gap banger. Why does this song top Taylor's? Sheer catchiness. You can beat allegations, but can you beat an earworm? Lovato's is also truly relatable. Many women I know have aged into where they're too old partners were and go "Oh wow yuck I can't imagine talking to a high schooler today. What a fucking creep I dated." Lovato also throws shade on Valderrama's current relationship with the lines "I see you're quite the collector/Yeah, you're twelve years her elder/Maybe now it doesn't matter/But I know, I know better."
2.

"Flowers," Miley Cyrus
Ex: Liam Hemsworth
PHC: Reading William's hairline to filth.
Miley Cyrus dropped this song on Liam Hemsworth's birthday. If that don't say "petty," I don't know what does. Oh wait, yes I do! It's that the whole chorus is a response to Bruno Mars' "When I Was Your Man," a song that fans believe Hemsworth once dedicated to Cyrus. Plus the line "Talk to myself for hours/Say things you don't understand" is basically calling Hemsworth a dum-dum. Face it, Gale lost the Hunger Games and he lost this breakup too.
1.

"BZRP Music Sessions #53," Shakira
Ex: Gerard Piqué
PHC: Every detail about his frostbitten dick.
Shakira went scorched earth in her latest collab with Argentinian producer and DJ Bizarrap. (According to the Guardian, the song has become the most watched new Latin music video in YouTube history with 63.5 million views in three days.) "#53" has such details, such specificity, it can only be about Shakira and Piqué. "I'm worth two 22-year-olds," she sings, alluding to her ex's much younger new gf. "You swapped a Ferrari for a Twingo/You swapped a Rolex for a Casio." Shakira also mentions her continuing troubles with the Spanish Ministry of Finance, singing ""You left me with my mother-in-law as a neighbor, with the press at my door and a debt to the taxman." Yikes.