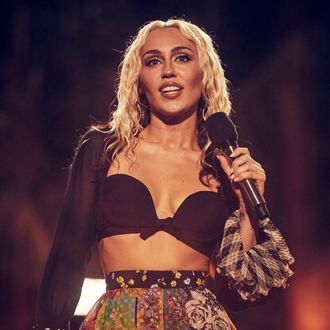 Miley Cyrus.
Photo: Vijat Mohindra/NBC via Getty Image
Miley Cyrus's new single, "Flowers," bloomed at No. 1 on the Billboard Hot 100 in its debut week. Her second single to occupy the chart's top spot — she hit No. 1 with "Wrecking Ball" for three weeks in 2013 — broke Spotify streaming records and took over TikTok in the days since its release. "Flowers" earned a whopping 52.6 million total streams, 33.5 million radio-airplay audience impressions, and sold 70,000 units in its first full tracking week, January 13–19. In the five hours after its January 12 release at 7 p.m. ET, the song notched 685,000 streams, 2.4 million radio impressions, and 2,000 copies sold. Although Cyrus's marketing wasn't as pointed (and hilarious) as purchasing a billboard in her ex's hometown to advertise the record (*cough* Lana del Rey *cough*), she did drop the song on her ex-husband, Liam Hemsworth's birthday — a juicy fact that may have contributed to the online fervor surrounding the track. A particular lyric may refer to the couple's Malibu home that burned in a wildfire — "built a home and watched it burn" — fueling viral fan theories that the song may have been written about the divorce. The track, Cyrus's first No. 1 hit as a writer, is a preview for her upcoming album, Endless Summer Vacation, which comes out on March 10.
In other Hot 100 news, Shakira landed in the top ten for the first time in 15 years for her collaboration with Bizarrap, "Bzrp Music Sessions, Vol. 53," which hit No. 9 with 20.2 million streams, 7.9 million radio-audience impressions, and 9,000 units sold. SZA's "Kill Bill" remained in the No. 2 spot, while Taylor Swift's "Anti-Hero" dropped to No. 3 after eight weeks at the top. The addition of "Flowers" to the top three slots on the chart makes a hat trick for messy breakup songs.