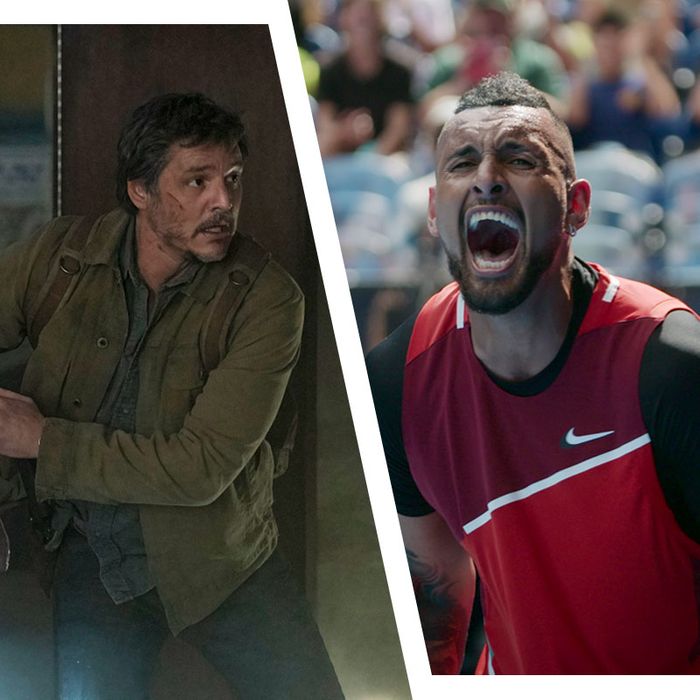 The Last of Us
;
Break Point
.
Photo: HBO; Netflix
These days, you don't need to tell me twice about watching a show with Pedro Pascal, but in The Last of Us, the magic comes from having Pascal and Bella Ramsey (Game of Thrones) onscreen together. And it'll be exciting to see once the show airs this Sunday on HBO because, obviously, Sunday-night programming on HBO is spectacular. But before you get to watch Pascal and Ramsey as Joel and Ellie, there are plenty of other offerings worth checking out this weekend.
Skinamarink
Personally, I got everything I needed from Skinamarink when I was subjected to the very uncomfortable trailer in theaters. Dark rooms, eerie white noise, hushed whispers, and waiting for something to happen when nothing happens — it's all too much for me. But for you weirdos on TikTok who made this movie viral out of the Fantasia International Film Festival, congrats! After being bought by Shudder, director Kyle Edward Ball's film debuts in select theaters this weekend, so now you can see what actually happens to those two kids who are mysteriously stuck in their windowless, doorless home.
Break Point
If you were into Formula 1: Drive to Survive, the producers of that series are back with a look into the world of professional tennis. The first half of the season — out now with part two coming later in the year — focuses on the up-and-coming players competing in the Australian and French Opens. Break Point may not show you the full matches in HD, but it's a good behind-the-scenes documentary about a sport you love.
The Last of Us
Pedro Pascal once more is a daddy smuggling precious cargo, but in The Last of Us, he stars as Joel, who's dealing with a postapocalyptic landscape as a virus has turned most of humanity into flesh-eating mushrooms. He is tasked with taking 14-year-old Ellie (played incredibly and fiercely by Bella Ramsey) across America, since she may be the key to curing this supposedly incurable disease. Although video-game adaptations can get a rough rap (some deservedly), take it from us that showrunner Craig Mazin (of the Emmy-winning Chernobyl) absolutely nails The Last of Us creator Neil Druckmann's affecting story.
The Traitors
The Traitors is sort of an oddball pick, but it's a fun one nonetheless. Hosted by Alan Cumming, this Peacock reality show is based on a Dutch series of the same name in which Cumming hosts 20 contestants in a Scottish castle as they play through a number of challenges in an attempt to win $250,000. The twist is that out of the 20, there are three traitors secretly trying to steal the prize right out from under them. Backstabbing makes for great TV.
Velma
The Scooby-Doo franchise is no stranger to remakes and reboots, but Mindy Kaling's new animated take on the property turns the focus to Velma, the bookish (and officially lesbian) sleuth in the mystery-solving gang. Without their trusty companion Scoob, Velma sees the squad (Velma voiced by Kaling, Daphne by Constance Wu, Fred by Glenn Howerton, and Norville, a.k.a. Shaggy, by Sam Richardson) in modern-day high school as they take on their first case.
Also read our streaming recommendations from the weekend of January 6. Vulture's next list of weekend streaming picks goes online Friday, January 20.