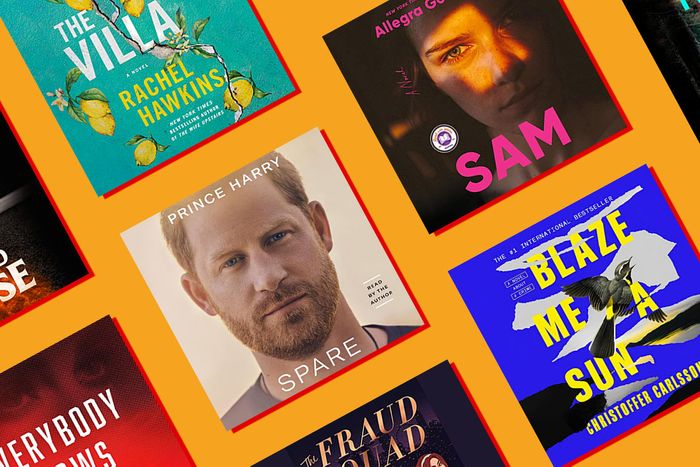 Photo-Illustration: Vulture.
The audiobook category is expanding every day, and we certainly can't listen to everything. The goal of this column is to steer you toward audiobooks that we hope will provide the best experiences, pop-culture value, and something to talk about at your cocktail party.
January Picks
Read by: Prince Harry
Length: 15 hrs, 39 mins
Speed I listened: Mostly 1.75x, but 1.5x for the stuff about his frostbitten penis
Listening to this book was a special form of insufferable torture. Time and again, as I zipped through it, I'd text friends saying "I hate Harry." But I couldn't stop, because Spare is a strange, contemporary artifact in the game of What Was This Person Thinking? Just him announcing the title of his book and his name—"by Prince Harry"—is weird. Does he call himself Prince Harry when he signs up for a SoulCycle class? It's probably unfair to wonder if, IRL, Harry actually uses the expressions leitmotif and Kafkaesque and emotional cul-de-sac. But I do question why he chooses to tell us that he's drunk alcoholic beverages out of friends' prosthetic legs multiple times. I mean, I Googled it, and it's a thing, but Harry feels we should know that he's done this on enough occasions that he can't remember if he drank out of a prosthetic leg on a particular evening while visiting the South Pole? I don't know, Harry. The frostbitten penis stuff has been covered ad nauseam, but my jaw just kept dropping even after that. However, his short singing selection from Elton John's "Your Song" is a surprising highlight.
Read by: Siho Ellsmore
Length: 11 hrs, 33 mins
Speed I listened: 1.75x
Sure, this book is a lot like Crazy Rich Asians, but it's a totally enjoyable retread of that popular best seller. With the help of two wealthy friends, Samantha Song, a working-class public relations executive, tries to make her way into high society in Singapore. I don't know how it feels when you read it on the page, but Australia-born narrator Ellsmore amplifies the experience. She gives several of the secondary characters voices that signal how annoying, snobby, or untrustworthy they may be. It's a kick of a time, especially if you're interested in the fashion-magazine or "It" girl set, but who isn't?
Read by: Megan Tusing and William DeMeritt
Length: 9 hrs, 25 mins
Speed I listened: 2x
I love a Hollywood novel, and this one scratched this month's itch. It's about a crisis publicist named Mae who investigates the sudden death of her boss when he's shot near the Beverly Hills Hotel. It's a town where "nobody talks. But everybody whispers." There's not much here that's shocking, new, or even quite as bizarre as those scenes with Tobey Maguire in Babylon, but I found Tusing's narrations of Mae's descent into the Hollywood underbelly rhythmically gripping.
Read by: Marisol Ramirez
Length: 8 hrs, 34 mins
Speed I listened: 2x
For a lot of this audiobook I kept wondering: Where is this going? That was a good thing … until it got where it was going. There are a few seemingly disconnected strands here. In the present, Maya is trying to kick a Klonopin habit without telling her current boyfriend. In the past, she's embroiled in a strange relationship with Frank, who has a habit of hypnotizing and maybe killing women, including Maya's friend Aubrey. Also, Maya's deceased father wrote a mysterious novel that should somehow tie into all of this, though I still couldn't tell you how. But until the final scenes, Ramirez's narration is enthralling.
Read by: Jay Aaseng and Mikhaila Aaseng
Length: 13 hrs
Speed I listened: 2x
I wish this was a tongue-in-cheek book about how to off-load haunted real estate, but it's really about siblings arguing over their parents' estate. That happens to be one of my least favorite topics in the entire universe. (Don't ask me to elaborate.) It's a testament to Hendrix's storytelling and the narrators that I didn't turn this book off from its opening scene and that I continued to listen even when puppets started talking and doing very mean things to the various characters. Consider it a companion piece to M3gan, sadly sans Allison Williams.
Read by: Rebecca Lowman
Length: 8 hrs, 34 mins
Speed I listened: 2x
I haven't read Allegra Goodman's fiction in a while, but Jenna Bush Hager chose this as her Today show book-club book for January, so I decided to give it a listen. (You've gotta take your cues from somewhere.) Basically, it's a bildungsroman about a young girl named Sam who has an absent father and a penchant for climbing walls. It's all very slice of life — there are no haunted robot puppets or murdering hypnotizers here — but I found myself really attached to Sam, in part because of Lowman's grounded narration, and I wanted to know where she ended up. I feel like you might too.
Read by: Peter Noble
Length: 13 hrs, 48 mins
Speed I listened: 2x
I often look for books that will mirror the experience of listening to The Girl With the Dragon Tattoo novels, and this is the closest I've gotten in a while. Stieg Larsson's trilogy was read by Simon Vance; this one is read by Peter Noble, who sounds similar. I guess I just find comfort in hearing Swedish names like Sven Jörgensson and towns like Tofta repeated again and again. None of the characters here come close to Lisbeth Salander or Mikael Blomkvist, and there may be more family drama than murder in this story, but I found it absorbing.
Read by: Julia Whelan, Kimberly Wetherell, and Shiromi Arserio
Length: 7 hrs, 57 mins
Speed I listened: 1.85x
This is about a newly divorced "cozy mystery" author named Em who vacations at a villa in Umbria with her friend Chess, a much more successful writer of whom she's a tad jealous. Their story of a symbiotic and repellant relationship, read by Whelan, was plenty engaging for me. But every so often Hawkins goes back to a second, less interesting narrative in 1974, where she tosses in some Fleetwood Mac, some Mary Shelley, and the Manson murders, and turns the whole thing into an overstuffed Milk Bar cookie. I'd recommend the contemporary parts if you can just alternate chapters and skip to those.