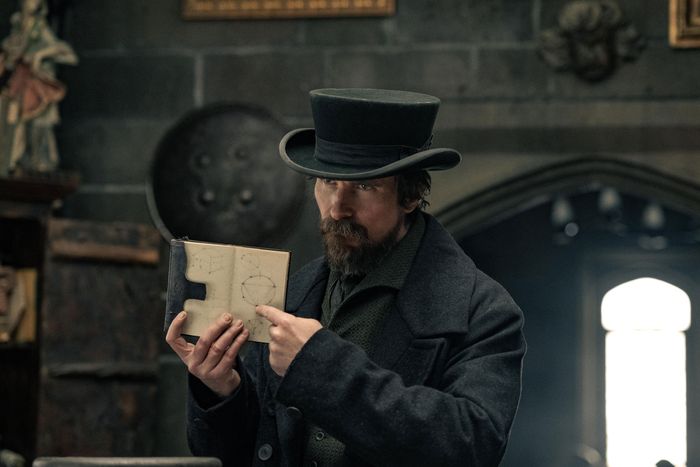 Photo: Scott Garfield/Netflix
Hollywood's studio system takes a breather each January, having rolled out its big Oscar contenders over the previous couple months, and, to an extent, the same goes for Netflix. The difference is that the streamer is not filling the spare scheduling space with dreck, but with the type of low-profile foreign-language titles it picks up for a song and releases with little fanfare. Colombia's Oscar submission escorts viewers through the hazardous city of Medellín, while a standout from Mexico bridging fiction and reality turns a critical eye on the country's recent uptick in kidnappings. And those not in the mood for a sobering boots-on-the-ground report from communities under the yoke of crime may instead search for a lovable dog with Rob Lowe or drop in on a festive, bustling Kenyan wedding. Throw in a prestige-tinged awards-season holdover featuring a barnstorming performance from Christian Bale and those winter doldrums don't stand a chance. Read on for a full breakdown of the Netflix Original Movies new to the service this month:
Essential Streaming
The Kings of the World


Once home to Pablo Escobar, still the epicenter of Colombia's booming cocaine industry, the city of Medellín provides a rough-and-tumble backdrop to this lyrical look into the lives of five street kids trying to carve out a piece of the world for themselves. As for de facto leader Rá (Carlos Andrés Castañeda), that's literal; the territory seized from his displaced grandmother by the colonists years ago has been returned to him as part of a government restitution program, and all he needs to do is go to the promised land. The journey there will be fraught with peril as well as small reprieves of humanity provided by the kindly trans hotel clerks and middle-age sex workers they meet along the way, their path a cross section of the various populaces struggling to get by in an environment hostile to young men. The Academy may have overlooked Colombia's submission while compiling its Best International Feature shortlist, but it exemplifies the combination of artistry and regional identity that rewards global curiosities.
Also Showing
You People
Co-writers Jonah Hill and Kenya Barris skewer Black-Jewish race relations with a button-pushing culture-clash comedy that marries the cringeworthy discomfort of Meet the Parents with an inversion of the social commentary in Guess Who's Coming to Dinner. Barris directs and Hill stars as Ezra, a generally with-it podcaster who collects sneakers and processes his love life through the discography of Drake, his coolness crumbling once he gets a Black girlfriend (Lauren London) and must impress her militant Muslim father, Akbar (Eddie Murphy, reserved). He stammers his way into every booby trap laid for him — in his first meetup with Akbar, he refers to Malcolm X as "our guy" and "the GOAT" — but the script also strikes some realer, tender nerves in Akbar's casual mention of his anti-vaxx leanings, or his invocation of Louis Farrakhan's greatness in front of Ezra's Jewish parents (Julia Louis-Dreyfus and David Duchovny). The home stretch falls back on plotting clichés as it shifts focus from societal relationships to a single romantic one, but arrives at the sturdy and increasingly uncontroversial conclusion that while white people can never know what it's like to be Black, accepting that much is the first step to everyone getting along.
Narvik
Netflix's unofficial series of Obscure World War II Subplot Films (including Operation Mincemeat and Munich: The Edge of War, among many others) gains a new entry with this recounting of the German army's invasion of Norway, a neutral yet strategically significant country, during World War II. Gunnar (Carl Martin Eggesbo) serves in the "neutrality guard" protecting the peaceful border, only to be taken prisoner by the Nazis; his wife, Ingrid (Kristine Hartgen), is given the Hobson's choice between serving as an interpreter for the enemy occupants or facing certain death. The film jumps between their respective hardships, its organizing motivating being a tribute to the suffering and resilience of the Norwegian people, who can't even catch a break when the "liberating" U.S. military storms in and starts shooting without distinguishing civilians from soldiers. While edifying about the reach of WWII's devastation, the film's action on the front and at home tends to plod along like so many frostbitten troops tromping through the crunchy snow.
JUNG_E
With this resourceful techno-thriller set in the 22nd century, South Korean genre maverick Yeon Sang-ho (director of Train to Busan and Netflix's own Psychokinesis) takes an empathetic stance on the subject of AI, usually recognized as a dangerous concept if not molded into an outright villain in dystopian sci-fi like this. In the midst of a space war, a roboticist (the tragically departed Kang Soo-yeon) transplants the consciousness of her comatose mercenary mom (Kim Hyun-joo) into a buggy yet curiously human android. The noble work of inventing new life, here a trial-and-error refining process that sees a child returning the favor of being raised by their parent, is the highest calling; the real baddie is the oversight board trying to shut down the robotics program, and the film saves its heaviest note of lament for one particularly grotesque form of mistreatment to the JUNG_E model. For all its novel ideas, however, Yeon's steel-paneled, glow-stick-lit vision of the world of tomorrow resembles too many others too closely.
The Pale Blue Eye
As durable as rawhide in the role of a detective pursuing an occult murderer circa 1830, Christian Bale proves an invaluable asset to this sometimes-shakily-plotted period thriller. Bale, along with the accomplished ensemble cast, which includes Gillian Anderson, Timothy Spall, Toby Jones, Charlotte Gainsbourg, and Robert Duvall, classes up the joint while the bodies with missing hearts accumulate. Detective Augustus Landor's investigation is most significantly aided by a young cadet named Edgar Allan Poe (Harry Melling, bringing a grounded fragility to a concept once used as a punchline on Party Down). They all have their secrets, the biggest of which indulges the ongoing Netflix fetish for dicey twists in the 11th hour, though it's all in service of giving Bale more meat to gnaw on. His gaunt stare is suffused with resignation that slowly turns to vengeance; he's one of few actors with the gravitas required to sell the utter self-seriousness of po-faced director Scott Cooper.
How I Became a Gangster
Detractors of Martin Scorsese levy a lot of charges against him — he has no interest in his female characters, he romanticizes criminal sadists, he's all style with little substance — but this Polish knockoff of Goodfellas actually is the film that player haters accuse the genuine article of being. Stretching a modest budget across more than two hours, this rinky-dink epic charts a hungry upstart's rise through the ranks of the gang world, borrowing the wall-to-wall music, swooping camera dollies, and rangy, coked-out energy of Henry Hill's wiseguy memoir. But there's no imitating the master, evident in the carelessness of the fine strokes: that our unnamed man (Marcin Kowalczyk) adheres to a moral code so we don't have to have any complicated feelings about him, that his wife (Natalia Szroeder) offers limpid smiles of support and little more, that the cinematography revels in the degraded hedonism without exposing the sickened emptiness beneath it. Everyone wants to be Marty, but he walks a treacherous tonal tightrope off of which his imitators faceplant.
Noise
In this fictionalized companion to the filmmaker's 2019 documentary on the same subject, Nosotras, director Natalia Beristain maintains her attention to the Mexican epidemic of kidnappings at the hands of organized criminals. She trains her focus on the gendered aspect of this widespread violence by singling out the case of the missing Gertrudis, doggedly sought by her indefatigable parents, Julia (Julieta Egurrola) and Arturo (Arturo Beristain, father of Natalia), if only so they might have the closure of her death. Their discouraging hunt for the truth takes us through not just their crushing grief but an entire social ecosystem that's sprung up around this community of the affected, from the disinterested authorities under the thumb of local gangs to the citizen action groups putting in the work that the cops won't. Informative without didacticism, moving without exploitation, the film uses strokes of real life (a handful of nonprofessional actors bare their emotional scars for Beristain's compassionate camera) to underscore the urgency of the wider crisis it outlines.
Disconnect: The Wedding Planner
Netflix nabbed the rights for this sequel to a romcom popular in Kenya, the second installment in a Yoruba riff on the Love, Actually–styled mosaic of couplings. An ensemble of lonelyhearts come together around a traditional destination wedding in Mombasa: the commitmentphobe who doesn't realize he needs to settle down, the couple working through a rocky patch, the jilted woman trying to rebound from her cheating ex. Sharing space with a few other narrative strands, they're all crowded in a film that hustles them through plot points without giving anyone room to breathe; as in any given wedding, everything seems rushed and hectic until the actual ceremony, when the opportunity to stop and reflect activates the sentimental triggers. The twanging of heartstrings is low effort, but those hitting "play" for the same reason one attends a destination wedding — lush scenery, the potential for a hookup, a bit of fun in an unfamiliar locale —will find their expectations met.
Dog Gone
While hiking the Appalachians in the mid-'90s, college kid Fielding Marshall (Johnny Berchtold) loses his angelic dog Gonker, and the ensuing search brings the Gen Xer closer to his workaholic dad (Rob Lowe) in a dynamic easily re-mapped onto today's intergenerational tensions. The pure pathos of the love between boy and his loyal companion can get a movie pretty far, but director Stephen Herek forces the rest of the world to be as wholesome and earnest as sweet, reliable mark-hitter Gonker (so named because once he bonked whippersnapper Fielding on the head). No one acts like an actual person, not the biker gang with mushy feelings nor the mom (Kimberly Williams-Paisley) just trying to figure out this newfangled "internet" she keeps hearing about, all of them two-dimensionally upbeat. Strangest of all is how this unremarkable true story is presumed to have the notability that merits feature-film treatment, with one dog's disappearance treated as a viral phenomenon in a pre-online world.
A Night at the Kindergarten
Eryk (Piotr Witkowski), the walking snare of selective morality at the center of this demented Polish black comedy, isn't a stepdad — he's the dad who stepped up to raise young Tytus, his girlfriend's terror of a child at risk of expulsion from school. With the ringing of Christmas bells in the air, he storms into a nativity play in progress to filibuster on little Tytus's behalf to the cliquey PTA, arguing that the child deserves the chance to grow and improve that's arguably the whole point of formal education. (That the child may truly be evil doesn't give Eryk or the film around him much pause; what 6-year-old isn't?) As in Yasmina Reza's uproarious play God of Carnage, the grown-ups start acting like overgrown brats as they hash out their offspring's conflicts for them, the tyrannical queen bee Justyna (Lena Gora) moving to the fore as Eryk's nemesis to be toppled. As a self-styled perfect mom, she's the real pleasure to hate, her holier-than-thou approach to parenting nowhere near as bad as Eryk's honest dirtbaggery.