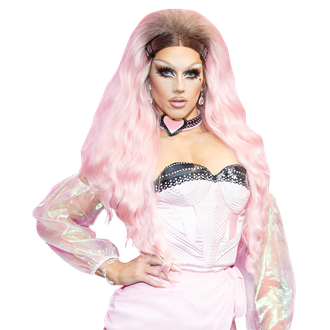 Photo: Santiago Felipe/Getty Images
Spoilers for RuPaul's Drag Race season 15 episode 4, "Supersized Snatch Game."
From the second Sugar and Spice walked into the RuPaul's Drag Race Werk Room this year, fans knew it was just a matter of time before they'd be forced to lip-sync against each other. After a disastrous Snatch Game in which Sugar became a nipple-tweaking Trisha Paytas while Spice went the lick-happy Miley Cyrus route, the TikTok twins were asked to go head to head on Pat Benatar's "You Better Run," a song that came out 19 years before they were born.
Falsely thinking they could beat the Drag Race machine (you can never beat the Drag Race machine), the pair opted instead for a sort of loosely choreographed duet, hoping to force Ru into keeping them both. Instead, she chose to send Sugar home in a move no doubt meant to shake up the competition and crush Spice's spirit enough to give the show emotional fodder for at least one more episode. In the wake of her elimination, Sugar spoke to Vulture about her self-esteem, her high-school love for Paytas, and how she's chosen "to make love to the never-ending-ness of this other journey."
Tell us about the "all for one and one for all" mentality you and Spice seemed to have had going into not just the elimination but the whole season.
It has always been us against the world with our family and online. It's just that twin dynamic. But thank God because, if we didn't have each other — like, I feel we are fully the reason why my self-esteem and self-image is so high and I'm able to be as confident as I am. Ultimately, I think the reason we do drag is because we were able to parent each other, so thank God for that.
Drag is our thing we do together. It's our bonding thing. We really do live our own separate lives, but this is the one thing that makes us feel like little kids. Leaving Spice in shambles, that's what broke my heart. But it's like, Oh, wait. You know, maybe we are stronger than we realize. Maybe we have joined in this human experience together to realize we can take our little birdy wings and fly free now and be solo. So I think it's beautiful.
Did you think you could compete together? Did you try to join the show as a team?
Oh, no. I mean, as much as we are a duo, Sugar and Spice are very much our own drag artists. We have so much fun when we're doing twin drag, but we both have our own things to offer. So that's why we were excited to do the show and show ourselves as individuals while still playing into our Sugar and Spice brands. So hopefully you got to know us as individuals. We'll see, I guess!
Talk about the lip sync. Did you have a sense that might go that way? Had you thought about the choreo, or was that all just via twintuition?
Going into the competition, I was like, They're definitely gonna make us lip-sync against each other. I mean, come on — it's Drag Race. I was not expecting it to be that soon, though. I was like, Oh, so they're pulling the trigger early. Okay! Normally they keep the pretty, untalented twink at least a few more episodes. That's what I was thinking.
It would have been more planned out if we'd had more time and weren't bawling our eyes out in the Werk Room. We only had about ten minutes to come up with something real quick, so that's what happened.
You had a lot to lose going into the show, especially compared to other queens. You have millions of followers on social media, while other regional queens might have only a few thousand. Did you worry about how you'd be portrayed or what you'd get out of the show?  
You know, I wasn't worried at all. I do drag and I exist on the internet as a TikTok queen, or a social queen, because it feels good to me. I'm all about how I feel because, in life, that's all we have. Of course I wanted this experience. I thought, This is going to be so much fun. And I felt so good about it. Even leaving, I felt like you can't go wrong when you are true to yourself, and I felt I was true to myself the whole time. So I really have no regrets.
On Untucked, you said you had so much you haven't shared, and we're not just talking about outfits. Did you go into the show having things you wanted to get across? What did you want out of the show other than to win?
I love drag because you get to explore so many different sides of yourself. It's playing; it's being a kid in a sandbox. So of course I was hoping I was going to be there the whole time because there's so much in me. With all of us, there's so much that lies beneath the surface. I wanted to show all sides of me, but it also doesn't end here. Life is so cool. You can wake up tomorrow and it's a fresh new page. It's never over. It's kind of a metaphor for this experience, where I could have been hard on myself, but it's like, Wait, no, you have to make love to the never-ending-ness of this other journey, and that's kind of what Drag Race is. It doesn't end once the cameras are done and you're gone. We're humans. We're living life. And we have to enjoy that.
A lot of queens have found bigger success on social media after the show even just because people want to see what they would have worn for the runways.
Right? It always comes down to a place of scarcity. So of course I had those things. Oh my God, I didn't get to show this. But oh, no, baby. There is so much for us to show. It doesn't just have to be on this show. That's why there's so much power in creating your own platform.
Tell us about your Snatch Game. Did you have other options you could have done, and how did you think it went in the moment?
I definitely had other options. I was thinking about doing Christina Aguilera, and she does like [holds ear and sings]. That was definitely an option.
But you know what it was? I was so happy to do Trisha because she was such a drag inspiration for me coming into my own as a high-schooler and not feeling accepted and being able to see her be so unapologetically herself. I was like, This is a no brainer. I have to do her and channel her. So, yes, it was my demise and what ultimately got me sent home, but I felt so good. I honestly felt like I was rolling on ecstasy or something. I was having the time of my life. You could not tell me I wasn't the internet troll Trisha antagonizing everyone and being too much. So I have no regrets because I had so much fun in the moment. How can I be mad at that?